Yoshino, where the brewery is located, has long been a region with a thriving forestry industry. Kawakami Village, located upstream of the Yoshino River, has a history of tree planting that has continued since the Muromachi period, and is an area where forestry has taken root. By using a technique called dense planting, Kawakami became a production center for barrels and brewing tubs sometime in the Edo period.

"Tarumaru" is a way of crafting cedar casks that involves splitting logs along the annual ring and shaving them, and then bundling the resulting planks in a circle. It originates from the Edo period as well and is credited with generating demand for Nara sake in Edo (now Tokyo). Kawakami casks were filled with local sake, then exported to eager buyers in the capital city.
Hanatomoe Tarumaru is inspired by this historic local tradition and is made in a way that isn't too different from 200+ years ago. Junmai sake made from a wild yamahai fermentation starter, with deep savory and ricey flavors, spends 7 days in cedar casks to absorb the cedar's spicy, forested flavors. Expect powerful pepper, juniper, lemon zest and herbal notes on a dry but umami-rich background. I love taruzake with smoked salmon, pepperoni pizza, cured meats, or anywhere I can imagine a hefty crack of freshly ground black pepper improving things.
Region: Nara
Rice Variety: Gin no Sato, Gohyakumangoku, Hitogokochi
Type: junmai taruzake (cask sake)
Polishing Rate: 70%
ABV: 15%
Ingredients: rice, water, yeast, kōji
Brewing: yamahai slow ferment, 7 day storage in cedar casks before bottling
Serving Temperature: room temperature to lightly warmed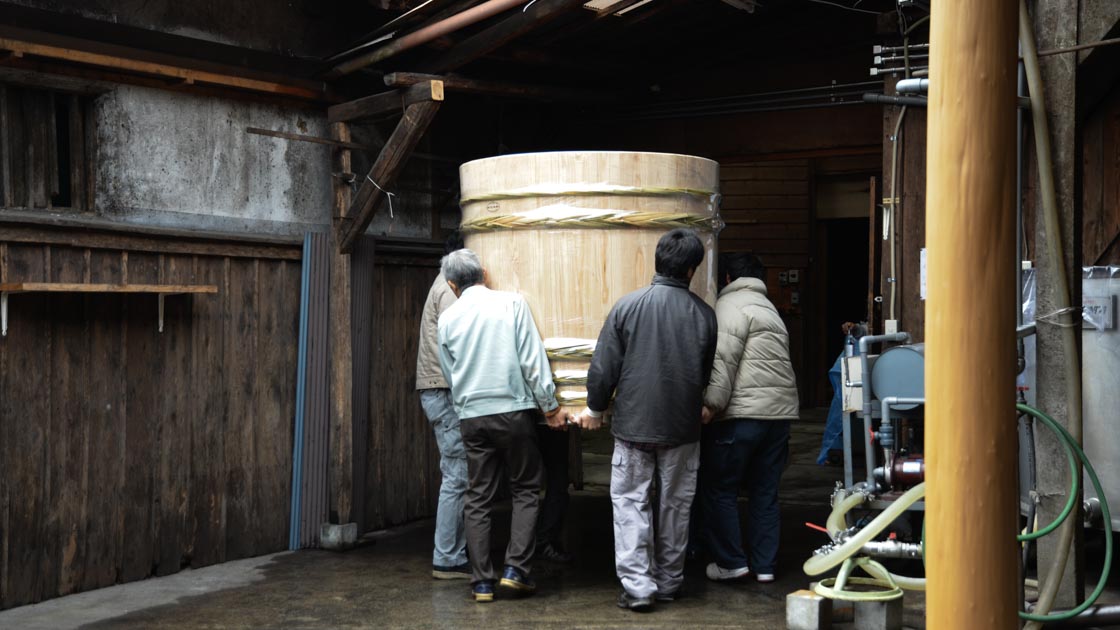 Brewery
Fourth-generation president of Miyoshino Jozo, Hashimoto Teruaki, became tōji in 2008, and has since turned it into one of Japan's most innovative and creative breweries. Hashimoto sees sake brewing as part of the local agriculture, working closely with nearby farmers and adjusting his sake to the rice they grow, not the other way around, as it is in most breweries. Brewing methods are very creative and rely entirely on natural yeast, with an ethos of "helping" nature do its work. The resulting sake is full-bodied, layered, rich in umami and acidity.