A refreshing, crisp, mineral and herbal daiginjo that shares more in common with chablis than other sake. 
The aroma is subtle: a bit of clean white rice, petrichor, some peach. On the palate it's delicate at first but grows, with notes of green apple, lemon zest, white raspberry, white peach and chalky minerals, finishing with an astringency that reads as crisp mineral clarity. Astringency is higher than most here, which I see as a reflection of the Kohuko Rose rice, and dryness is high too--perhaps a strong fermentation from Kohuko Rose's high nurient content.
This is a soft daiginjo but not the softest or plushest by any means-- in fact, I think its leaner texture and crisp impression are distinct and one of a kind. While breweries everywhere are using white and black koji, special fermentation methods and special temperatures to produce "wine like" sake, Uka is honestly one of the most wine-like I've tried. Not in the big buttery chardonnay sense, but in the austere, linear, Chablis and Mosel tradition.
The value here is exceptional. $39 for a 40% polish daiginjo is unheard of, you'll never see it again. And the reason they've been able to price it this way is because Koda Farms essentially donated the rice for this project. You can usually buy the rice for about $32 for a 15 lb bag, maybe $16 for a 5 lb bag. So the gesture here is considerable-- and not surprisingly, Ninki Shuzo's Japanese shop website has fully sold out of all Uka sake.
Tech:
California rice/Fukushima prefecture brewinfg

Kohuko Rose rice (KR55)

Seimaibuai (rice polishing ratio): 40%

Brewing starter: sokujo moto

Yeast: Utskushima Kirameki Kobo (house yeast)

Unaged, fresh
I know I say this a lot, and perhaps it's the Californian in me, but Uka might be one of the best stories in my whole shop. I love the sake itself-- a complex, dry, crisp daiginjo, arguably my driest-- but the story, that's what really makes it special. California rice from a multi-generation Japanese-American farm, brewed in Fukushima by a 19th generation brewery, brought back to the US to share with us. 
The Backstory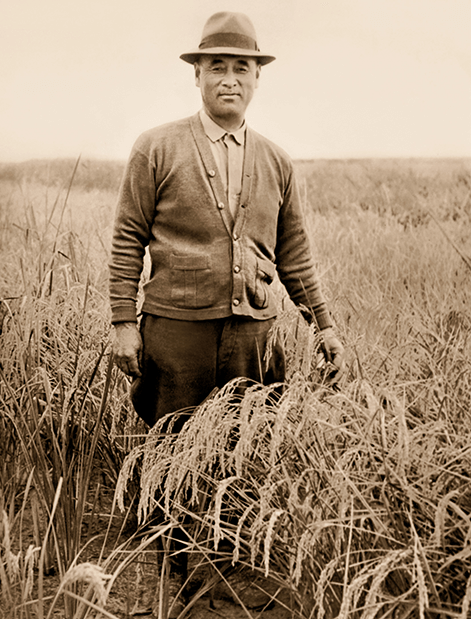 Once upon a time in Fukushima, Keizaburo Kokufuda, a school principal and dreamer, decided to pack up all his worldly belongings and move to America: then, a land of opportunity. Arriving in California in 1908, Kokufuda joined a strong and vibrant community of Japanese-Americans working hard to carve out a place for themselves.
After roughly a decade of starting, building, and selling several successful businesses (Laundy shops! Tuna canning! Vegetable canning!) Kokufuda decided to move from Southern to Northern California to reconnect with his roots. His father, a former samurai, had made a living milling and brokering rice-- Kokufuda took the lessons of his childhood and saw clear potential for California rice.

After a false start, he established a company in the San Joaquin Valley with the help of his children, native-born Japanese-Americans, who were legally able to establish a business while he-- an immigrant in a time of nationalism--was not. Quickly, Kokufuda became known among Japanese-Americans as the "Rice King" for his creativity, innovation, industry and success. 
In 1941, the outbreak of WW2 and forcible Japanese internment forced Kokufuda and his family into labor camps. He was forced to entrust his farm and all he had built to non-asians. By 1945, all assets had been liquidated and the family was forced to start over. Kokufuda's two sons quickly went to work, and with a small donation of land from their neighbor, rebuilt--and grew--their empire, even working with a rice breeder in 1963 to engineer a novel variety superior in flavor to Calrose: K55, which is now branded as Kohuko Rose, and 58 years old. 

Ross Koda, Keizaburo Kokufuda's grandson, observed the 2011 Fukushima Daiichi Nuclear Disaster from his home in California. As his grandfather's homeland, this hit particularly hard and Ross wanted both to help and to reconnect with Fukushima. Through a distant relative, Ross was able to connect with 19th generation sake brewery Ninki Shuzo in Fukushima to collaborate on a sake made with Koda Farms rice, and brewed in Fukushima with local talent and indigenous Mt. Adatara water. This is an unprecedented project: small amounts of American table rice is imported to Japan as a curiosity, but Japanese breweries have never before made sake from American rice. 

Most American sake is made from Calrose: genetically similar to Kohuko Rose, but designed for yield and ease of production rather than quality or flavor. Kohuko Rose in contrast was specifically designed for flavor and to distinguish Koda Farms from the comparatively flavorless Cal-Pearl that dominated the market in the 60s. In addition, Ross Koda farmed the Kohuko Rose destined for Fukushima in a careful way, to coax out the characteristics best suited to sake production. He wanted to represent Californian terroir, his family's history and legacy, in a way that would speak to their multi-generational commitment to quality.
I love American sake, I will always be a supporter of American sake, but we do have a rice problem. We won't always...there are several efforts underway to improve our varieties and manner of production. But right now our sake needs work, and part of that is the dominant rice variety used for sake. Calrose is king, and it has issues. The sake falls apart, it can be excessively astringent, and it lacks the potential complexity of Japanese rice.

The Uka label shows a butterfly with two larvae beneath its wings. The wings are based on an outline of the California coast while the larvae are an outline of Fukushima prefecture. Out of respect for butterflies, a portion of the sake's proceeds is donated to butterfly habitat protection. The rice itself has been slowly polished to 40% in order to avoid cracked grains. This is well below the 50% requirement for Daiginjo and speaks to the expertise of Ninki Shuzo in choosing the appropriate rate of milling.  
I'm going to repeat myself: The value here is exceptional! $39 for a 40% polish daiginjo is unheard of. And the reason they've been able to price it this way is because Koda Farms essentially donated the rice for this project. You can usually buy the rice for about $32 for a 15 lb bag, maybe $16 for a 5 lb bag. So the gesture here is considerable-- and not surprisingly, Ninki Shuzo's Japanese shop website has fully sold out of all Uka sake. But it would still be a deal at $50, so I hope they keep making it, and to Koda Farms: I hope you start working with local brewers soon too. I'd be one happy camper if crisp, austere, minerality became reflective as the American terroir of sake (we didn't get so lucky with wine!)